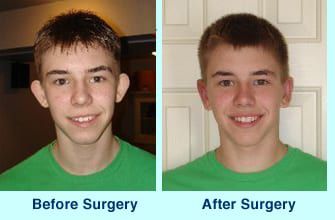 Approximately 5 years ago Dr. Monteiro performed surgery on my son's ears. I just wanted to let you know that the surgery has remained a success and now he is on his way to college, with more confidence than he ever had before! Many Thanks!
From CS, Collegeville, PA
Normally we write letters when we have a complaint and never take the time to write a letter when we have a positive experience.
I had a consultation with you. To my surprise the consultation was not at all an uncomfortable situation as I had thought. Your professionalism and nice demeanor made me feel very comfortable.
When I called to make an appointment, your receptionist was very nice and very accommodating. While waiting for my appointment, I also observed that your receptionist was very nice and accommodating to each person that she greeted and also to those she spoke to on the phone.
Then came my turn for my BOTOX® injections. Dr. Monteiro and his staff immediately put me at ease. I was very happy with the results and immediately made an appointment to have Thermage™. Liz assisted by getting me prepared for the treatment. During that time, I asked her questions, which she answered in a pleasant manner. Even though your staff appeared to be busy, they took the time to make me feel very comfortable.
Although I am aware that your staff is doing a great job, I wanted to take the time to share my positive experience with you. It is evident that your staff reflects your style.
From KO, Washington D.C.:
"I cannot thank you enough for all you have done for me. Your refforts have changed my life, and my outlook on life. I am so happy. I can never repay you for your kindness."
From PG, Limerick PA:
"While I always had a good figure, I'd always wanted to have somewhat larger, firmer breasts that looked and felt natural. I wanted to do this for myself – to make myself feel that I could look my best. A relative of mine had had some elective cosmetic surgery, his results were great, and he told me Dr. Monteiro was his doctor. I called his office and found out that he specialized in cosmetic and reconstructive breast procedures. I decided to make an appointment to discuss breast augmentation with him. Dr. Monteiro was very understanding, professional, and assured me that the saline-filled implants he was recommending would provide me with the results I was seeking.>My 'new' breasts feel natural now, are firm, and they have a pleasant shape. I'm glad I had the procedure and would recommend it to any woman who is interested in personal self-improvement."
From JM, Kimberton PA:
" I selected a plastic surgeon that I felt was highly skilled in his field, and Dr. Monteiro is just that. He also is well known in the Philadelphia area among his collegues and patients, and came highly recommended when I was considering rhinoploasty. I'd been unhappy with the appearance of my nose and after long consideration, and some procrastination, I decided to proceed with the surgery after meeting Dr. Monteiro. He not only relieved my worries of a surgical procedure under anesthesia, but also instilled in me the confidence and skill that I was seeking in a surgeon. I only wish I had my surgery done earlier in life. I would recommend Dr. Monteiro to anyone looking for excellent results after surgery."
From MDG, Philadelphia, PA:
"I had bags under my eyes by age 20. By the time I was 40, my bags were darker and more pronounced – and my upper eyelids were starting to sag at the corners. Sometimes people told me I looked 'exhausted' – even when I felt rested and fine. After some thought (including visiting two other plastic surgeons for consultations) I heard of Dr. Monteiro, who came highly recommended from my personal physician. I went to see him and he planned a custom set of procedures for my particular needs.The procedures were affordable. And so I decided to have a complete upper and lower eyelid lift, and also a browlift at that time. My post-operative results were so natural and so satisfactory that 2 years later I decided to go back to him and have a full facelift procedure. The facelift was done in the privacy and convenience of his office, and only took about two hours to perform. My initial post-operative recouperation period lasted a week and I was able to return to work just 10 days after the procedure. The results, now more than 7 years after I began my facial restoration, remain: My face looks quite natural – but also surprisingly youthful.
UPDATE – December 2007/January 2013:
After 12 years (post-surgery/my first procedures), my eyelid skin and eyelid fat began to return, to my disfatistaction. I decided to have a repeat procedure of upper and lower eyelid lifts, while continuing with occasional 'touch-up' injections of Botox® and Juviderm™. Happily, I remain youthful-looking now in my late-50's, and very pleased with the outcome of my procedures. I expect to continue with similar procedures as I age to help me maintain a youthful, healthy appearance.
From GT, Swedesboro, NJ:
"I was always overweight as a kid. As I grew up I exercised and worked out and dieted, and while that helped a lot, nothing seemed to get rid of the "love handles" on either side of my waist. After a few more years I began developing weight on the front of my belly, too. My pants became tighter and I didn't like the look of myself in a bathing suit so much any more. A friend of mine recommended Dr. Monteiro and I went to see him. I had two sets of liposuction procedures under general anesthesia in a hospital, and after a couple of weeks as I began to really heal, I noticed that the waistline I'd always wanted was there – the unsightly bluges were literally gone! I like to be in shape and look my best. I am sure that I will continue to maintain my health and continue to improve my physique, and that may include other procedures in the future."